Choose Product
Configure Specs
Review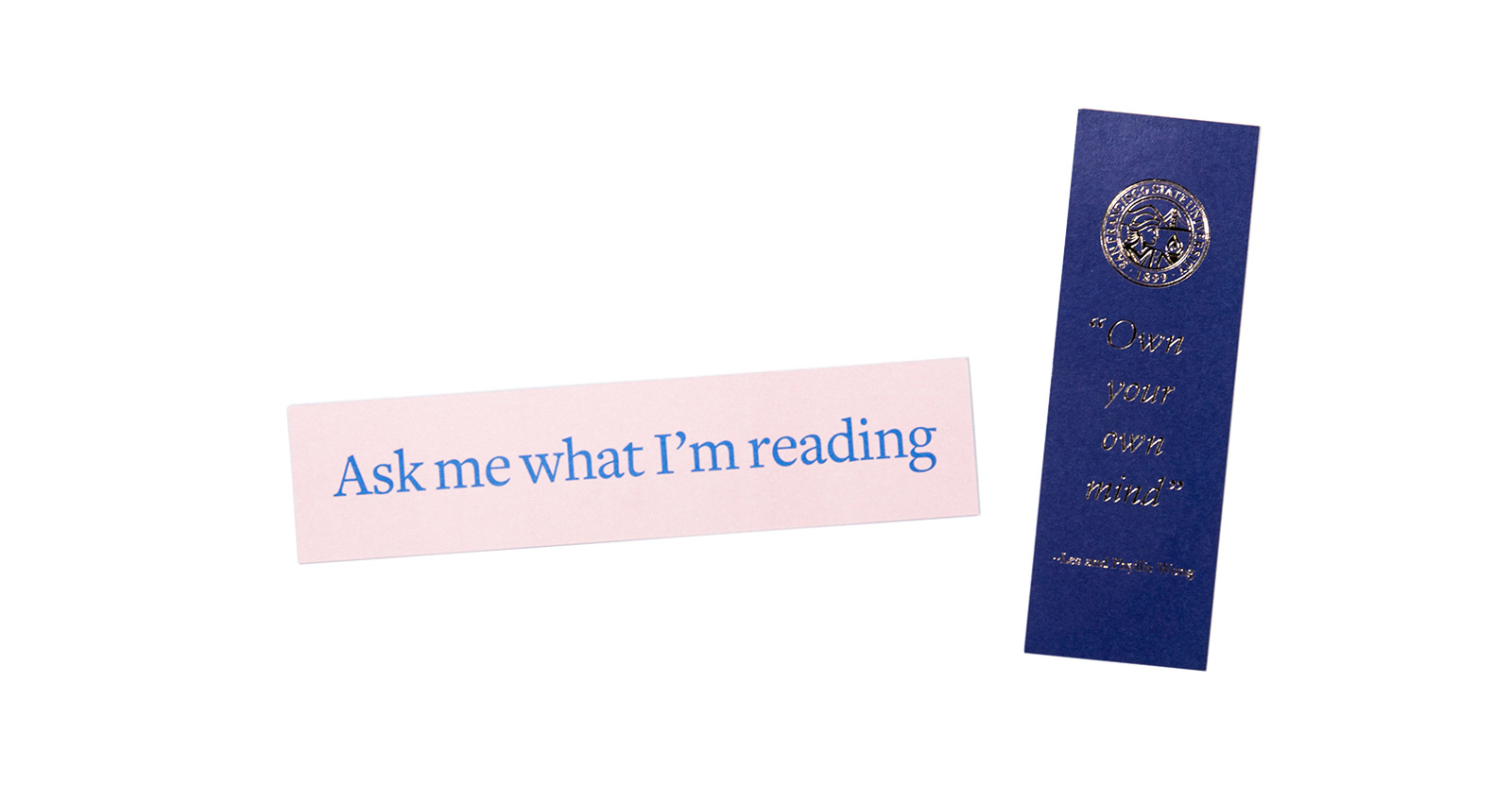 Description
Who doesn't love a custom printed piece that does double duty as page saver? From die cut beauties to understated dandies, we can help you make your (book)mark.
Need help deciding which paper will be perfect for your project? Have no fear, the Mingo Press Paper Guide is here! Not seeing the paper you've been longing for? Give us a shout. We love sourcing the special stuff.
Interested in adding a special coating, but need a little guidance? There's a Special Coatings Guide for that.
Standard Turnaround Time: 1 to 4 Business Days
We're pretty flexible with our turnaround times. Tell us your deadline in the notes section below, and we'll do what we can to make it happen. Did we mention we never charge extras for rush jobs?
Bookmarks FAQ
The Mingo Ordering Process
Mingo Press Paper Guide
PRINTING
?
The number of unique versions being printed at the same time. Need four different bookmarks for four universities? That's four originals. Still not sure? Give us a call and we'll walk you through the process. #TEAMEFFORT
:
?
Touch it. Smell it. AHHH...PAPER. You can read all about the stocks we keep on our floor in the Mingo Press Paper Guide, linked above. Not seeing the paper you've been longing for? Give us a shout - we love sourcing special stuff.
:
?
White is never just white, are we right? See our Mingo Press Paper Guide linked above for the skinny on which white is right for you. If you're in more of a Berrylicious Blue mood, give us a shout. We love custom orders.
?
While lots of projects print in full color (CMYK), we understand the beauty of a well designed duotone and the importance of accurate spot colors for brand consistency. If you are printing in spot colors, including the PMS numbers in the notes section would earn you lots of brownie points with our crew.
FINISHING
?
Our standard radius is 1/4" and rounding all four corners. If you prefer to round outside the box, just include your preferred radius and comments in the notes section and we'll see what we can do!
?
Tear off with ease. Microperfs are available upon request, and fancy perfs that stop before the end of the sheet require a custom quote.
?
Our standard drill size is 5/16", but we know designers are far from standard. Let us know your preferred size and placement in the the notes section.
?
Our real life team of experts will look over your file to make sure everything will print beautifully. We can either send you a PDF proof for one last look-see or overnight a hardcopy. In most cases, these hardcopy proofs will be color accurate and trimmed/finished to size.
YOUR QUOTE:
Want to name this project?
WAIT A MINUTE. WHAT HAPPENS AFTER I CLICK "PLACE ORDER?"
1. First, we'll send you a confirmation email and give you a quick rundown of the job's timeline.
2. Before we print anything you'll see a proof, which you'll receive 1 to 2 days after you've placed the order.​​​​​​​
3. After you review the proof and give us the thumbs-up, production will begin. The faster you approve, the sooner we print!
4. Once we print your job, we'll carefully inspect it to make sure everything looks good, then ship or mail it to you on the same day.​​​​​​​
5. We guarantee the quality of our work, and we promise to always be friendly, responsive, fun and fast. Seriously, you're going to love us.
YOU MIGHT ALSO BE INTERESTED IN.....