Ever thought of building an entire global paper campaign in eleven days? Mingo Press hadn't either, until UPPAbaby, an American-based juvenile gear company, offered up a hot potato branding project that was too good to deny.
UPPAbaby specializes in creating sleek, innovative, strollers and car seats designed to offer maximum safety for baby, and top-notch style and functionality for mom and dad. They're used to envelope-pushing design elements, and needed a company that could make their vision come to life on an actual envelope.
They began their search in the beginning of July, and ultimately landed on Tulsa, OK-based online printing company, Mingo Press. It was a whirlwind of a union, but one that would go down in the books.
With the pressing deadline of a conference in Germany looming not even 14 days away, the company had their work cut out for them. But the paper-passionate workers at Mingo thrive the adrenaline rush of a quick turnaround. It gave them just the push they needed to get down to work for UPPAbaby. And baby, was there work to do… 
Doing the Impossible
Mingo first became involved with UPPAbaby by printing the company's brand kits. Anticipating some limitations to the original product design, they created customized templates for the client, and recommended they scale down the size a bit to cut costs–after all, small is big in the baby industry! By demonstrating a commitment to UPPABaby's bottom line, it became clear that Mingo was someone they could trust.
They pulled out that same commitment to quality and cost when it came time to create the UPPAbaby brand booklets for Germany. UPPAbaby wanted to add a tangible pop to the front of the product, but didn't want to sacrifice their chosen uncoated paper. The problem? Spot UV finishes don't typically stick to uncoated paper. D'oh!
To remedy this, Mingo suggested a clear foil stamp instead, which achieved both the desired, beautiful detailing and the uncoated, finished feel of their selected paper. But it didn't stop there.
Waiting by the Phone
With time ticking away, they had to move fast. Color matching proofs were drawn up and shipped to UPPAbaby headquarters in Boston that evening, and things were moving along by the next morning. Mingo kept them updated via photos, renderings, and phone calls, and made sure they had the peace of mind necessary for the truncated timeline.
Five days later, the masters at Mingo had everything printed, die cut, converted, bound, foil stamped, embossed, assembled, and ready to ship to Germany—miraculously ahead of schedule, and marvelously ahead of expectations.
Then, word came from Boston that UPPAbaby's Graphic Designer loved the finished products.
"They arrived today—and they're wonderful! I really appreciate how the whole process went smoothly, from getting the numerous quotes and mockups, to the quick responses and status updates on printing. Thank you and the Mingo team, and we hope to do more fun projects with you guys in the future!"
The paper masters at Mingo might not be magicians, but there's something to be said for pulling a client-pleasing rabbit out of your hat—or press.
Signed, Sealed, Delivered
Still, the work wasn't finished. Up next was the direct mail piece, and Mingo delivered—literally. They mailed and shipped the brand kits across the US and beyond, sending the regal design and brand of UPPAbaby across the four corners of the world.
In just 11 days, Mingo managed to bring to life an entire brand identify for their client, everything from envelopes, folders, and business cards with download links, a tangible brand manifesto and printed brand guidelines—all with the signature satisfaction and customer service with which Mingo is synonymous.
Mingo believes quick and quality service should come with the territory– that's why they never charge extra for rush orders. Their agnostic approach to file acceptance makes them 'file-friendly'; send whatever high res file you have, and they'll make it work. And because they know no one likes talking to a machine, you get a real, live person every time you call Mingo—guaranteed. Service with a smile. It's still a thing, and Mingo's got it.
And because they know seeing is believing, Mingo wants you to palm the pristine magic of direct mail firsthand. Lend us your address and we'll send you a piece of your own, so you can feel the difference yourself.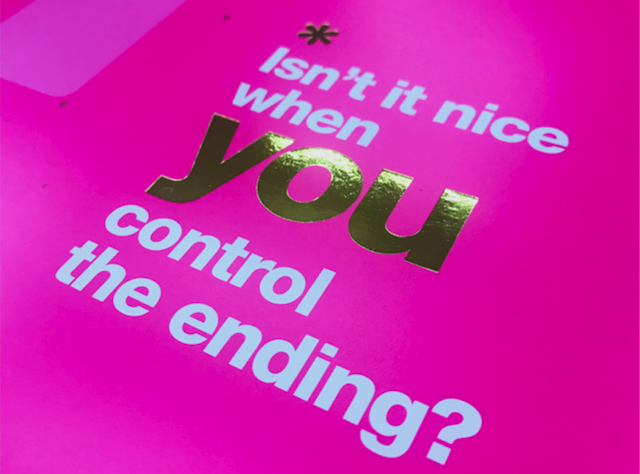 Our story is all about bringing yours to life. But how do we do that? Good question. Here, we offer a behind-the-scenes glimpse of the various printing methods we utilized to execute our latest direct mailer, "Isn't it nice when you control the ending?" We start with an attention-grabbing concept. In this case, it's about...
There's a certain process to design and creativity that we tend to follow: research, plan, create, analyze. But what if we're missing a step? Where does happiness play into the mix?
Read More
Narrative is what gives human experience meaning. Narrative is what triggers emotion, and empathy.
Read More